DCC Last Minute SQUEEEEEEing
TWAS THE NIGHT BEFORE DENVER COMIC CON AND AND ALL THROUGH THE HOUSE… SQUEEEEEEEEEEEEEEEEEEEE!!!!!!!!
Alright, I don't have time for a fancy organized post. So here are some random last minute con prep thoughts!
1. You, fellow nerd-person, are formally invited to attend our Denver Comic Con panel Natural 20: How RPGs are Changing the World on Friday 6/30 (TOMORROW! OMG!) at 4:30PM in room 607. It'll be D&D story time, and we'd love for you to come and tell your own D&D stories on the positive theme of how D&D helps us all with team building and making friends and joy and story telling and snacks. If you haven't played pen and paper RPGs, come anyway! We are fun people.
We'll also be giving out a few things because why not? Critters, we love you. Please come and say hi! OMG can you believe that last episode? EEEK!
2. Jody Houser is coming. JODY HOUSER IS COMING TO DCC! 
She'll be in Artist Alley at booth O-01. Faith, guys. Not Buffy Faith, but flying super sarcastic superhero faith. If you aren't reading it you should be. It just won some fancy award. It is hilarious. FAITH! JODY HOUSER!
3. Carolyn Nowak is also going to be there. LUMBERJANES! It is such an oddly cute and deep comic. Plus they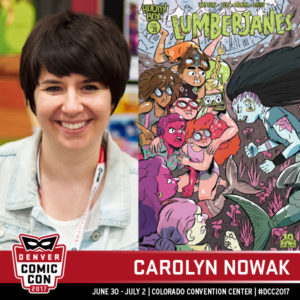 had a crossover with my other favorite cute and deep comic Gotham Academy! So much love. She has some really great comics up on her webpage too. One is about almost astronauts and evil bitches next door. I just started it and want to read it instead of typing this sentence. You can find her in Artist Valley Table N-26! Or at these panels: Creating your own Independent Comics Friday at 12PM 8bit Stage @ Kids' Lab, Not Just Angry Superman – Comics Young Women Can Identify With Friday at 2PM Room 503, Boom! and Kaboom! Saturday at 1PM room 503 (also includes Sam Sykes, Jim Campbell, and Ian McGinty), Comics Writing Careers for Young Women Saturday at 4PM 8bit Stage @ Kids' Lab.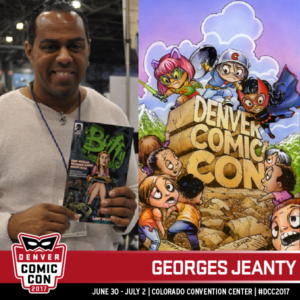 4.   Georges Jeanty (artist for Buffy Season 8, 9, Firefly comics) is back this year for the 20th Anniversary of Buffy! He'll be at Artist Valley, Table A-02. He has the party table. Last year there was music, and people were just hanging out talking nerdy stuff. It is a very entertaining place where you can feel free to discuss if that big thing that almost ate fake-buffy at the beginning of season 8 is a dragon or not. He'll also be on these panels: Diversity in Comics I – Are Things Really Changing? Friday at 1PM DCCP6 Coast City Room, Buffy Comics 20th Anniversary Creator Celebration Sunday at 1:30PM Room 501.
5. Snacks and non-alcoholic beverages are allowed at Comic Con. Since it may reach temps that put wookiees in danger, you should think about bringing some. Snack bars! Dried fruit! Undried fruit! Trail mix! Put some snacks and water in your bag right now before you forget!
6. Oh wait, that was it. I'm going to go back to reading this comic about the bitches next door to almost astronauts. It is pretty vital for my con prep right now. HAVE FUN THIS WEEKEND, CON PEOPLE!
---
---